Fast, Safe and Responsible Electronic Waste Disposal
Electronic appliances are difficult and timely to dispose of. That is why Recycle Now is here to manage effectively the e-waste for you. We can take care of your old office and household gadgets, utility machines and large electric items. Our experienced and professional company in London can provide adequate assistance for the removal of junk of any type and size. We will take all the precautionary measures and comply with the Health and Safety requirements. Furthermore, our environmentally conscious electronic waste disposal team recycle most of the waste materials we collect. Whether it is an old TV, broken PC, useless oven or fridge, give us a call, and we can take it away and dispose of it safely.
Our team of experts have the knowledge and the skills to deal with all aspects of electronic waste removal. They will come to your place and will effectively free you of all the unnecessary and unwanted items around your home or office.


What You Can Expect from Our E-Waste Disposal Service?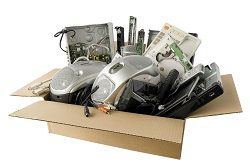 We offer complete and comprehensive electronic waste removal services that include: collection, loading, transporting, recycling and disposing of. Our professionals will handle every step of the process with the utmost care and competence. As one of the best clearance companies in London, we are dedicated to offering high-quality and cost-effective solutions for both commercial and domestic needs. Here are a couple of things you can expect from us:

• Eco-friendly solutions: we recycle more than 85% of the waste we collect.
• Affordable rates: you can take advantage of our unparalleled prices and exclusive deals.
• Tailor-made services: due to our flexibility and diverse portfolio of solutions, you can combine our e-waste collection with any other of the services we offer and get a heavy discount.
• Outstanding results and 100% customer satisfaction: our strict and high standards allow us to meet and exceed your expectations.
• Excellent planning: we will send one of our best crews with a proper-sized vehicle to come at a suitable time for you.

Learn more about our clearance services in London or get a free estimate by calling us!


Proper Disposal of Hazardous Materials

Some electronic devices and appliances are labelled hazardous, making them unsuitable for our electronic waste disposal service. Computers, cell phones and printers contain toxic heavy metals that constitute a risk for the public health and the environment. Here are a few tips on how to safely remove this type of e-waste items and materials. First, try to recycle as much as possible. If your devices are in good condition give them away. The other option is to find local municipality regulated land disposal areas.
What is the price of our electronic waste disposal service?
We have a simple pricing structure based on the weight and volume of the waste we collect. Our budget-friendly rates and exclusive deals guarantee that you will not break the bank when you hire us. No deposits are required - you pay after the job is completed. With a phone call, you will get a free, no-obligation quote. There are no hidden costs!
What type of waste do we collect?
Recycle Now collects and disposes of all kinds of e-waste, except for hazardous materials and items. We remove the following electronics:
Oven disposal: If you are wondering what to do with your old and unwanted oven? You can leave it to us. We know how to properly dispose of this appliance quickly and safely.
Washing machine disposal: as one of the heaviest appliances around the house, the washing machine may cause a lot of troubles during the disposal process. Instead of risking a back injury or inadvertent damage of your household, get in touch with us!
Fridge disposal: Don't worry about the size of your old fridge. Our hardworking waste collectors have the skills to tackle even the most difficult and complicated job.
TV disposal: TV sets, especially older ones can be quite large and difficult to remove. We can effectively get rid of your unwieldy electronics quickly and without a hassle.
Computer disposal: if you don't know what to do with your old PC, you can turn to us. Our experts will find the best use for your outdated gadget.


When we are available?
We can collect your e-waste any day of the week, even during the weekends and bank holidays. You can benefit from our same day services or reschedule your appointment at any time without extra charges.
An Environmentally Conscious Company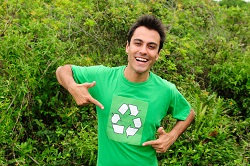 As a socially responsible company, we are committed to preserving the environment and reducing landfill waste. That is why we strive to recycle most of the items we collect, even when it comes to electronic appliances. Our professionals will carefully sort the waste to pick up items that can be donated or reused. The rest is recycled or safely disposed of.
Book Efficient and Eco-Friendly E-waste Disposal in London
Get in touch with us to schedule your appointment today and get rid of the unwanted appliances quickly and efficiently. Our friendly team will happily give you all the information you need, including a free quote on your electronic waste disposal job. Don't hesitate to ask them anything that interests you. They will assist you with the booking process and will help you find the best solution for you. We will take into account all your WEEE recycling requirements and needs and will address them adequately. You can put your trust in Recycle Now because we are a responsible, experienced and professional company.


Save
Save